Boilers & Hydronic Heating
Pro Trades
Sales, Installation & Maintenance of Boilers and Radiant Heat Infloor Heating Systems 
Rinnai Condensing Gas Boilers
Whether it's consistent heat throughout a home or continuous domestic hot water, Rinnai's line of condensing gas boilers maximizes efficiency with unparalleled reliability and comfort. With a wide range of options for both existing homes and new construction, you'll find that Rinnai condensing gas boilers offer features such as on-board display and an outdoor reset sensor to continually adjust to changing temperatures and optimize performance.
Our wall-mounted condensing boilers convert Natural Gas or Propane into heat with unprecedented efficiency, helping to stretch our precious supply of fossil fuels well into the future. We are dedicated to finding new and better ways to utilize the world's dwindling energy resources while providing superior comfort, reliability and fuel savings to our customers.
Residential Condensing Boiler
20,000 to 160,000 BTU/H
With Supply and Return connections on both sides of the boiler your installation can't get any easier.
Use the left side, the right side or both…the choice is yours
New Touch Screen V-10 Boiler Control
Express set up – Remote monitoring & diagnostics 
95% AFUE.
8:1 turndown ratio means you have the power to heat your home in the coldest weather yet reduce short cycling when the weather is mild.
Built-in multiple zone pump control – up to 4 zones replacing the need for external pump controls.
The most advanced stainless steel fire tube boiler on the market today.
Unmatched safety features.
Easier to install and service.
Limited lifetime residential heat exchanger warranty.
KNIGHT® Fire Tube Wall Mount Boiler
KNIGHT Fire Tube Wall Mount Boiler gives greater installation flexibility with the performance you've come to expect.
7 Models from 55,000 to 399,000 Btu/hr
95% AFUE
Up to 10:1 Turndown
ECM Variable Speed Boiler Pump
Features SMART SYSTEM™ Operating Control and CON·X·US® Remote Connect Capable
Radiant heat is the most comfortable and efficient form of home heating. Radiant floor heating systems conduct heat through the floor, which then broadcasts heat to every cold object in the room–especially you. It's an unparalleled sense of comfort, and the fuel efficiencies can be tremendous. Hydronic heating systems are clean, quiet, and can be installed under any type of floor covering. Warm your home, business, warehouse, or garage with radiant heating and you'll be thanking yourself again and again.
More efficient than air
Improved comfort
Less allergens
No ducts or grills
Quiet operation
Higher resale value
And More...
HeatLink® hydronic radiant systems are based on circulating warm or cool water through loops of tubing. The most common applications for radiant systems are: floor warming, floor heating, radiant cooling, snow melting, and frost protection. There are multiple installation methods available depending on the building construction or application.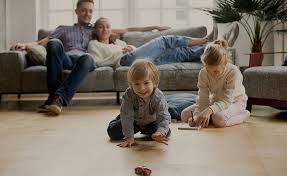 Pro Trades can help you design your next infloor heating or radiant heating systems.