Home Flood Prevention Devices
Pro Trades
Sump Pumps, Backup Pumps & Pump Alarms
Sales & Installations of Flood Devices To Protect Your Home
Don't wait, till its too late, Call Pro Trades today!
For all your flood prevention devices and installations, we are here to help 24/7 365.
Whether its a new sump pump, battery or water backup unit we have you covered. We can also provide you with a WIFI enabled alarm system to be notified if you have a flood while your away.
1/3 HP Liberty Sump Pumps
Cool running and efficient, the 230-Series features a deep-finned powder coated aluminum motor housing, polypropylene base and vortex style impeller. Topped-off with a quick-disconnect power cord and Liberty's VMF switch (model 237) the 230-Series offers a superior value in a 1/3 hp pump.
Cool running and efficient, the 450-Series features a deep-finned powder coated aluminum motor housing, polypropylene base and vortex style impeller. Topped-off with a Quick-connect power cord and Liberty's VMF switch (model 457) the 450-Series offers a superior value in a 1/2 hp pump.
Sump Pump Platform
A stable platform with pump locators designed exclusively to fit your Liberty submersible sump pump
Raises the sump pump 2.5" off the bottom of your pit
Reduces potential jamming from debris, rocks, mud, and sediments
Durable ABS...will not corrode
Replaces unstable blocks or bricks
Fits exclusively Liberty Sump Pump Series: 230, 240, 250, 280, and S37.
NEW! Adhesive tape adheres to pump base for ease of installation
SJ10 Sumpjet - Water Backup
Water Powered Back-Up Pump
1-1/2" Discharge
3/4" NPT Water Inlet Connection
Accepts 20PSI up to 100PSI inlet supply pressure*
The SumpJet® (Model SJ10) is a water powered back-up sump pump that will protect your basement in the case of a power outage. This unique product is powered by your municipal water supply** and requires no electricity to operate! With a compact high efficiency design, The SumpJet® removes 2 gallons of sump water per 1 gallon used. The SumpJet® is fully automatic, arrives completely assembled, and comes backed with Liberty's standard 3 year warranty.
Wireless Enabled Pump Alarm
For sewage, sump or puddle sensing applications.
The alarm is feature-packed with a new super-bright LED alarm ring, low basement temperature warning, and even comes with auxiliary contacts for connection to other home security systems. It features easy-to-use plug-n-play wiring and BlinkUp™ technology for quick connection to your smart device! See the enclosed literature sheet for all the new features of the ALM-EYE series alarms.
Battery Back-Up Emergency Sump Pump System
Battery operated 12 Volt DC
Adapts to 1-1/2 or 1-1/4 Discharge
Liberty's model 441 takes over when the power goes out. Operating from the power of a 12 volt deep cycle battery*, the 441 features an efficient 12 volt pump, advance 3-stage charger with switch mode technology and easy wiring with slip connectors.
The 441 is designed as a backup pump and designed to be used in conjunction with a 120V primary pump.
*Battery not included. Liberty Stormcell® battery recommended.
Save Time and Money with the Plumber's Best Choice for Retrofit Installation!
Normally open backwater valve
Model ML-FR4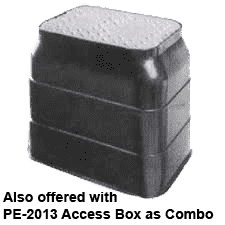 Backwater Valve
Sanitary systems typically drain by gravity towards the wastewater treatment plants. When a large rainfall occurs, rainfall can enter the City's sanitary sewer in a number of ways, including direct sewer connections, infiltration, through manhole covers, etc. This rainfall can cause the sewer system to surcharge and back up into homes, resulting in basement flooding.
Backwater sanitary valves (also known as "check valves" or "backwater valves") are mechanical devices that are designed to allow the flow of water in one direction away from your home. Used on a sanitary lateral, they can reduce the risk of sewage backup if installed properly and maintained adequately.
Don't wait until it's too late... 
Call Pro Trades Now!